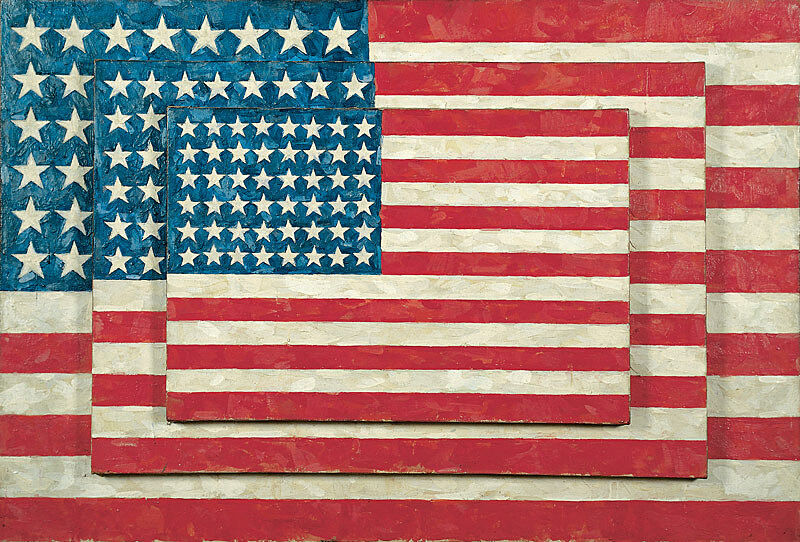 Jasper Johns: Mind/Mirror

Sept 29, 2021–Feb 13, 2022
The radical, inventive art of Jasper Johns (b. 1930) continues to influence today's artists like few others. In an unprecedented collaboration, the Whitney and the Philadelphia Museum of Art will stage a simultaneous retrospective—the largest of Johns's seven-decade career—that offers a fresh take on the living legend. From his iconic flags to lesser-known and recent works, the exhibition will feature paintings, sculptures, drawings, and prints—nearly 500 artworks across the two museums, many of which are from Johns's personal collection and will be shown publicly for the first time.
Inspired by the artist's long-standing fascination with mirroring and doubles, each half of the exhibition will act as a reflection of the other, inviting viewers to look closely to discover the themes, methods, and coded visual language that echo across the two venues. A visit to either museum will provide a vivid chronological survey; a visit to both will offer an innovative and immersive exploration of the many phases, masterworks, and mysteries of Johns's still-evolving career.
This exhibition is organized by the Whitney Museum of American Art and the Philadelphia Museum of Art.
The organizing curators are Scott Rothkopf, Senior Deputy Director and Nancy and Steve Crown Family Chief Curator, the Whitney Museum of American Art, and Carlos Basualdo, the Keith L. and Katherine Sachs Senior Curator of Contemporary Art, the Philadelphia Museum of Art.
Jasper Johns: Mind/Mirror is organized by the Whitney Museum of American Art and the Philadelphia Museum of Art.
Bank of America is the National Sponsor

The presentation in New York is sponsored by



Generous support is provided by Judy Hart Angelo, Neil G. Bluhm, Susan and John Hess, and the Whitney's National Committee.
Major support is provided by The Brown Foundation, Inc., of Houston; Anne and Joel Ehrenkranz; and Helen and Charles Schwab.
Significant support is provided by Susan and Larry Marx, Marsha and Jeffrey Perelman, and Donna Perret Rosen and Benjamin M. Rosen.
Additional support is provided by Johanna and Leslie Garfield, Chris Harland and Ashley Leeds, the Jon and Mary Shirley Foundation, Barbara and Richard Lane, Margo Leavin, Janie C. Lee, Martin Z. Margulies, the National Endowment for the Arts, Monique and Gregg Seibert, and Norman Selby and Melissa Vail Selby.

The opening dinner is sponsored by Christie's

---
---
In the News
"The most ambitious retrospective to date" —ArtfixDaily
"The artist's work has managed to speak both to and for the country's consciousness for the last 60 years — and he's not done yet." —T Magazine
"With a career spanning over 60 years, Jasper Johns [...] is considered one of the greatest artists of the 20th century." —Artsy
"[T]he artist's first major museum retrospective on the East Coast in nearly a quarter century." —PhillyVoice
---
---